SEO…What?
SEO or search engine optimisation is a fundamental asset to any online business. It helps your brand become more visible in search rankings, increasing traffic to your website and converting browsers and viewers into paying customers. A robust SEO campaign can catapult your business and enable you to compete with industry competitors in both brand expertise and of course, the search rankings.
But before you hit the ground running, remember that getting SEO wrong or relying on the inexperienced can have detrimental effects on your business, and can be a huge drain on time and resources.
In this blog, we want to help you avoid the hassle and explain more about why and how getting the right SEO support can save your business time, money and connect you to your customer more seamlessly.
A Smarter Use of Resources
Getting SEO right from the start will save your business time and money… that's just a fact. Preventing an ineffective and inefficient campaign from launching not only protects the brand identity and trust, but it will also save your business from losing custom and increase organic growth opportunities.
Remember that low cost, low risk is not the case in these circumstances. It can lead to spending much more money over time and in some cases can cause irreparable harm, due to the loss of time.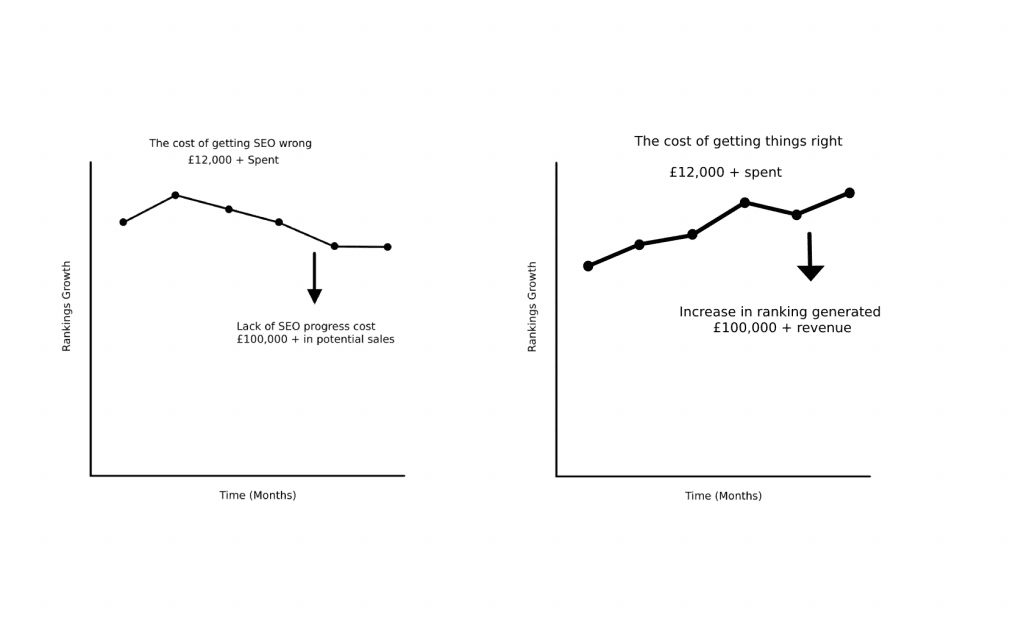 What Can Go Wrong as a Result of Poor SEO
A drop or loss in search rankings: Poor or no SEO efforts leave it at risk of getting lost within a vast sea of competitors, all wanting the number one spot, remember the best choose the best, which is why they are visible for all to see, let's make that you!
Marketing efforts going to waste: Marketing materials cost money and take time, so you need to ensure that your efforts are going to the right people in the right locations, this is where SEO Localisation comes in.
Online visibility: When you are amongst industry giants, it's easy for the smaller businesses to become lost. But don't fret, it has now become mandatory for search engines such as Google, to explain how their algorithms work, so that everyone has their shot. In fact, this is something we wrote a recent blog post on, so head over to learn more. Previously, smaller businesses that had much less resources had a much harder time being noticed, but that's all changed, so make the most of it and demand your spot in the digital sandpit.
"If you pick the wrong choice, trust the wrong people, or fail to see the value, you've likely spent tens of thousands of pounds, you're six months along the process, and you have to start all over again." Candidsky Account Director, David Vernon.
This would be absolutely devastating wouldn't it, and it's just not worth the risk, time or hassle…Let's get SEO nailed from the start, because failing to do so means your business would be missing out on significant benefits that will boost you to where you should be.
And For the Record
SEO agencies like us here at Candidsky really are the way forward…You just have to choose the right ones, with the best people and that can prove realistic results.
Remember, there are many things you should consider when choosing the right agency or individual for your business; here are some things to look out for:
Superb first-hand experience in the area of the campaign they will be working on
Someone who knows the challenges that lie ahead before they get to them
They know how to compete with your competitors
They are transparent about how long it may take to see positive results
Remember Real Results are Not Instant
For your business to begin seeing SEO gains, it will take until around the 6-9 months mark. This is why choosing the wrong agency or individual can severely delay your business' SEO gains, as you must now wait longer to see the positive results of a fantastic SEO campaign.
So, when it comes to choosing who will be taking over your SEO campaign, think about why they are the right choice for your business.
Candour is Key
And they don't call us Candidsky for nothing! So If you need support in navigating the complex but fascinating world of SEO and the infinite wealth of benefits it can bring to your business. Contact our friendly Manchester SEO agency experts today…We love chatting all things data, results and sharing tips on how to help businesses like yours grow. We let our results and growing clientele speak for themselves, we just want to hear about you and how we can help.