Social networking is often considered a pastime for young people – but no more. Research has shown that six out of ten internet users aged between 50 and 64 are social networking site users, as are 43% of those aged 65 and older. A recent Mashable article by 13 year old Ruby Karp also claimed that young people are abandoning Facebook in favour of newer sites and apps like Instagram and Snapchat. So, is Facebook's user database an aging population?
The figures
According to data from Pew Research Center, the number of adults who use social networks is up to 72% – an increase of around 5% from last year, and 64% since 2005, when Pew first started studying social networking habits. A spokesman from Pew states that "those ages 65 and older have roughly tripled their presence on social networking sites in the last four years—from 13 percent in the spring of 2009 to 43% now."
Similarly, stats from GlobalWebIndex showed a 46% increase in Facebook users aged 45 to 54, with Twitter growing nearly 80% with users aged 55 to 64. It seems that social networking is here to stay.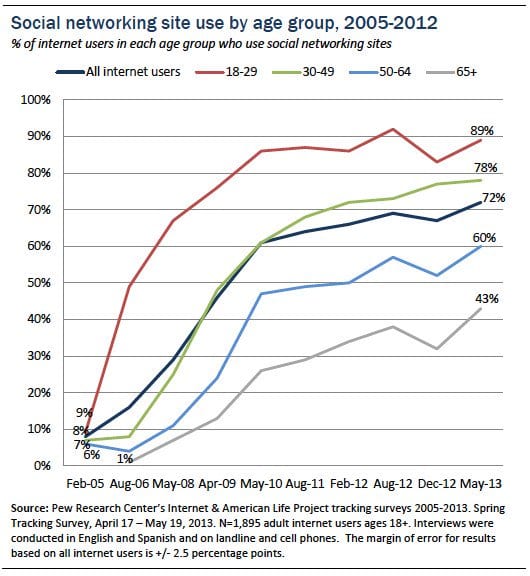 Why?
It's clear that older people are being drawn to social networking sites – but why? Research from Shespeaks.com found that over-40 female users did so to reconnect with old friends as well as to monitor their children's online activities. Similarly, the Pew study found that 43% of parents and grandparents are using social networking sites to 'friend' their family and to check up on younger relatives. Young people remain the largest users of social networking sites, so it seems likely that their older counterparts are simply a little bit nosy.
More seriously, the Internet also allows older adults to research information that's important to them. This is where social networking sites come into their own, with friends and family available to answer questions. Getting advice from peers is a great way to get some trusted answers on care or health related questions, one aspect which draws older adults to social media.
What does it mean?
Although it may be bad news for younger people who don't want their parents snooping or uploading embarrassing baby photos, it's great news for marketers. Older people are a huge market – there are currently more adults in the UK over 45 than under.
Mark Beasley is managing director of RHC Advantage, the UK's only independent marketing agency specialising in mature audiences. He stresses that marketing to an older audience should be about inclusivity – "not excluding older people, rather than actively targeting them".
As mentioned above, young people still make up the largest proportion of social users, so there's no need to give your strategy a complete overhaul. The key is to treat older media users just like any other consumer – though it might be worth teaching your mum what "lol" really means.