Over the past six months, the world of SEO has been underpinned by one familiar concept that is now ingrained into the very fabric of our industry – the rise of artificial intelligence (AI). AI will undoubtedly shape the future of SEO, and the rapid rise of ChatGPT has already seen this seachange accelerated.
But, Google has been relatively quiet during the initial birthing of AI. The world has been waiting tentatively to see what AI-inspired wizardry the U.S. tech giant would conjure up. The answer to this question has now been answered emphatically, with Google's chief executive Sundar Pichai unveiling the launch of Google's new generative AI model.
PaLM2 is the AI-language model Google launched at their annual developer's conference. The reason behind Google's tentative approach to introducing AI has been largely attributed to concerns over safety and reputation that introducing mass changes to their search product may cause. This has, however, allowed the likes of Microsoft to gain an advantage by launching its respective AI products before Google has.
Although, from their initial announcement, Google is looking to transform the way developers, startups, and businesses use AI, and targeting these groups with access to a range of paid products and services is all part of the plan.
The Impact on SEO
We're becoming accustomed to AI-language models being introduced into the digital sphere, so how will this latest transformative piece of AI from the world's largest search engine shape the future of SEO?
Primarily, the focus for SEOs is the new search generative experience (SGE). Although this feature is still in the trial phase (it can only be accessed by joining the Google Labs waitlist), Google has released some exciting information about this and how this AI-powered search engine can revolutionise search.
The generative AI feature is experimental, as outlined in the screenshot, which offers a glimpse into the interface of Google's latest feature. We, as SEOs, can be thankful for some positive signs, such as the inclusion of content sites and sources that we can see in the interface below.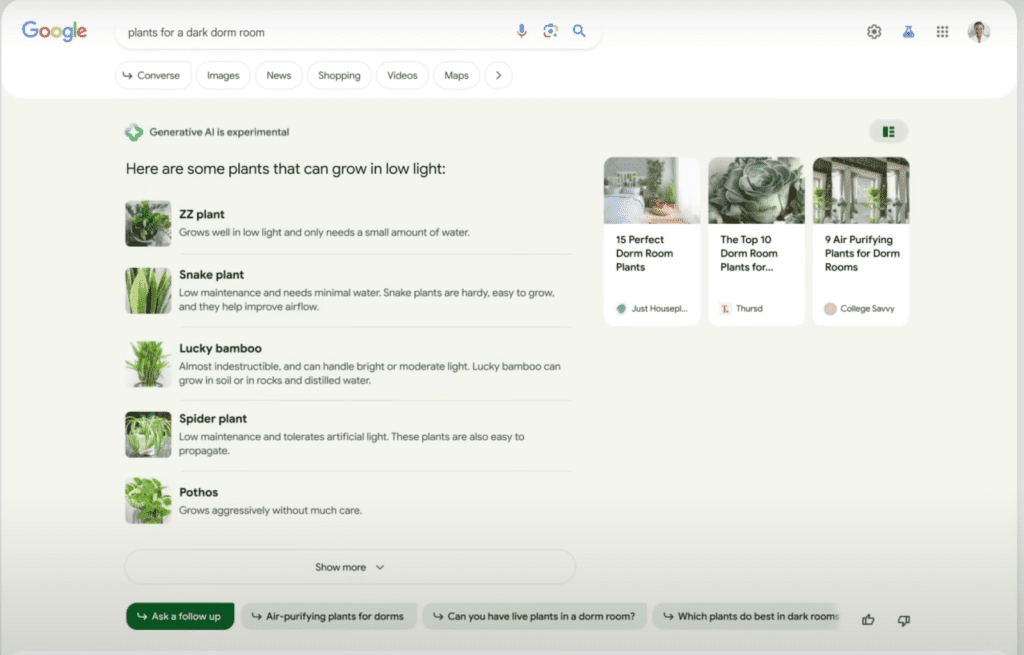 Although this is still yet to be finalised, with the generative AI feature only available for use on a trial basis, there seems to have been some progress from the initial Bard AI demos released in February 2023.
The sources Google has used to determine the information can be seen in the answers below the search query, which shows there have been some tweaks that incorporates the needs and wants of SEO.
Equally, there are a series of conversational follow-up questions that Google suggests, allowing users to engage in a conversational style of search and extract more in-depth information that is beneficial and helpful. Essentially, this is the search equivalent of ChatGPT, with a user interface reminiscent of that of Bard.
For SEO, this could be invaluable for transforming keyword research, particularly long-tailed keyword research. The further insight provided by conversational AI models will only help pinpoint users' needs and pain points, helping us evolve our approach to keyword research in the new era of generative AI.
Although conversational features are the game-changer for the new Search experience, Google is intent on establishing a framework that acts as a differential between using Search as a brainstorming tool and finding factual information and helpful resources based on a search query.
The five-point plan for SGE focuses on the following points:
A seamless search experience for users with a quicker, streamlined journey for search.
Reliable search queries for YMYL categories.
Driving traffic and offering credits to aid the promotion of good content sources.
Presentation of adverts that supports search, with sources that add value and information integrated into the search experience.
Prioritisation for user trust when Google evaluates whether it can offer valuable first-person responses.
Accuracy and misinformation
With trust and accurate information, a hot topic surrounding the use of AI, the subject of online misinformation, is integral for SEO and how we write and publish content for adherence to Google's helpful content guidelines. The integration of generative AI for search will determine how effective these models are in ensuring accurate information is communicated to the user. Language models are susceptible to generating content that isn't entirely accurate. Therefore, this will be a key area to consider going forward.
When is the rollout of generative AI expected to take place?
The release of Search Generative Experience isn't finalised, as the approach by Google is based on ongoing tests and tweaks to the generative AI capabilities for Search. Ongoing improvements based on feedback from initial users are being considered and acted upon to refine the model and the experience of Search for users. Search quality raters are used to test all the features before a wider rollout is launched.
It will be interesting to note how Google's introduction of generative AI influences Search and user behaviour in the coming weeks and months. As SEOs, we must be ready to adapt and evolve in our own way and tailor our strategies to incorporate the benefits that AI-assisted Search will provide.
Flexible SEO strategies
SEO is what we do best here at Candidsky. We always have our finger on the pulse with our adaptable and flexible SEO strategies that incorporate all the latest changes in the digital world.
If you want an SEO strategy with a cutting-edge that helps scale the growth of your business, then we'd love to help. Contact our Manchester SEO agency via email at info@candidsky.com, or get in touch using our online form submission.