Writing content that is valuable for SEO in 2020 is less smoke and mirrors, and more quality, informative pieces that solve the user's problem…
Google strives to provide users with descriptive, reliable information. That means your content must match the intent of the user to rank highly.
If the user has an informational intent (eg they want to find out which product they should buy), Google will rank relevant, quality product guides above a product page.
So what does this mean for my business? You ask…
Whatever product or service you offer, you have a target audience that you want to market to. The issue is your target audience are all likely at different stages of the sales funnel.
Some already know exactly what they want and immediately convert on your website. But others may not be at this stage yet, and the idea of your product/service is merely a consideration.
Without the content to match their intent, many of these users won't see your website.
Writing content relevant to the intent of the user not only improves your visibility, but it is an opportunity to capture a greater target audience and keep them on your website to convert.
Scenario: the high street. 
Let's look at how this works on the high street…
You have a problem. Storm Ciara has rolled in and you need to buy a jacket that can weather it.
But you don't know which jacket you need; what size, brand or where you should buy it from – and you have a budget to stick to.
You walk around Manchester all day looking for anything that remotely resembles an outdoor shop.
Some you walk in, wandering aimlessly through the myriad of products, railings, and sections.
None of the staff come to help you and the heating is on so high you can't think. You might try a couple of items on, but more likely, you will turn and run.
Your problem? 
You're not ready to buy, because you don't know what you want. Your customer journey is a long, tiring stab in the dark.
Now imagine you are walking down Deansgate and a store's employee comes up to you in the street and says:
Hi there, I see you're looking for a jacket that could brave a storm…
You need something waterproof, windproof and that inflates into a protective bubble for when cars and trees start falling from the sky.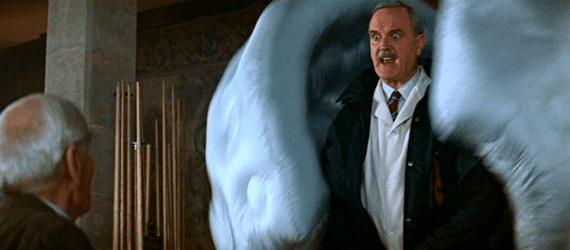 The staff member continues to explain the best products available for your needs and the ones that are within your price range.
After providing you with all this information, they offer to take you to the storm jackets section in the store where you can see all of the jackets discussed available to buy. Gladly, you accept.
You now know what you want and you're already in the right place to buy it. You're delighted that the store has solved your problem for you and you trust them because of that.
You've moved down the sales funnel and you are ready to purchase, so why do that anywhere else?
This is how creating content for SEO can convert a wider audience… 
Create informative, quality guides about your key products/services that solve problems for your target audience at the top of the funnel. Then neatly link them to the relevant pages to convert.
Using keyword research, you can determine how many people are searching for your relevant product/service information and create the content to match.
You can make decisions on which products/services to create content for based on the type of search queries, the number of searches for these terms, and the competition currently in Google's search results – which would affect how well your content ranks.
Having an effective SEO strategy, your content ranks highly in Google's search results and your site is visible to user's looking for the information you are providing.
This drives more traffic from your target audience onto your site, that would otherwise have found the information they needed to buy your products elsewhere.
As you create this content, you need it to be easily accessible and well-organised so that users can navigate between informational content and product pages – maintaining a clear customer journey on your website.
Enter the knowledge base.
What is a Knowledge Base?
A centralised resource for all of your informational content which is linked from the main navigation of your website. This can include guides, FAQs, blogs, videos, etc.
A knowledge base can benefit existing users by providing information to support their journey and increase conversions, but also as an acquisition method to bring new potential customers to the site.
Why do I need one?
Essentially, because Google ranks informational content differently to commercial content. But also it:
Allows you to capture people looking for information about your products or services
Increases your overall brand visibility through targeting a wider set of search terms
Enables you to target search terms unsuitable for category or product pages
Increases your site's topical relevance, which may improve your commercial rankings
Can attract other websites to link to your content.
You're much more likely to rank in a top position for terms like 'which jackets are the warmest' if you have the informational content to match it.
Google recognises that this user problem requires an informational guide to solve it and ranks websites accordingly. In fact, if you search for this term, the top 37 results are informational guides on the warmest jackets you can buy.
Having a knowledge base is a logical way to organise all of the content you write for this purpose, that users can easily find on your website.
Knowledge Base vs. Blog
Writing content for a knowledge base is different to writing content for a blog.
Blogs are renowned for providing opinionated, lower-quality content.
This is where you find companies talking about their birthday or that time they played beer pong in the office…
They also have a published date, so the content in a blog is time-sensitive. This means that Google doesn't show you someone's outdated opinion about a topic and instead can provide users with the most relevant information about their search term.
The knowledge base is an area for the creation of static pages, which sit permanently on the site and in the main navigation. They contain quality, expert guides which are highly relevant to the products/services that you offer. They are not time-sensitive and pertain to fact rather than opinion.
Being distinctly different from a blog post, these guides tell Google that you are experts in the industry and you are a trustworthy provider of relevant information to its users.
This is done very well by a huge amount of successful websites, but an obvious example is ao.com.
The 'Help & Advice' section provides users with all the information they may need to decide to purchase, and neatly links them to the area of the website where they can buy them.
Wrapping it up
Creating a centralised resource of high quality, static informational content about your products/services helps you to rank for search terms with a lower commercial intent.
This means you can drive more of your target audience onto your site, who are at the top of the sales funnel and not yet ready to convert.
Providing a solution to their user problem at this stage of the customer journey develops trust with your audience and keeps them on your website should they decide to convert.
Focused, quality content
Increased organic visibility
More of your target audience on your website
More conversions
MORE MONEY
Want to find out what makes us one of the best SEO companies in Manchester? Take a look at our case studies to learn more.