Featured snippets have been a great way to gain extra exposure, clicks and conversions since 2014. In 2020 there was a huge update that effected many business's rankings — so are they still worth striving for?
What are featured snippets?
Featured snippets are short bits of text that appear at the top of a Google search result. It usually answers a searchers question or query quickly, providing a highlighted section of content directly from the top search result page.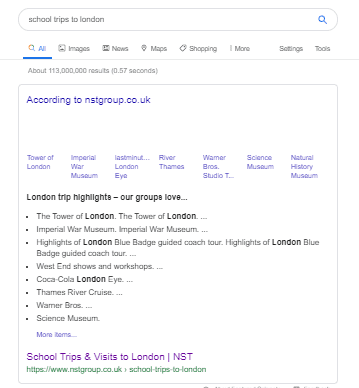 Featured snippets updates
Increasing revenue is a main priority for any business owner. So, when a Google update can stop this from happening, we want you to know about it.
January 2020
In an effort to declutter the search results, and to ensure that people in the SEO industry had their fingers on the pulse, Google announced an update on Twitter on the 22nd Jan 2020:
"If a web page listing is elevated into the featured snippet position, we no longer repeat the listing in the search results. This declutters the results & helps users locate relevant information more easily. Featured snippets count as one of the ten web page listings we show."
Google began the "deduplication process" meaning that it's no longer possible to leverage a featured snippet and also rank organically on the first page of results.
Instead, websites will retain the featured snippet and lose their organic ranking. A drop in rankings could result in a decline in website clicks and ultimately, conversions. This means that it's more important than ever to understand your website's position on the SERPs. In 2019, featured snippets sat at #0 at the top of Google's organic results – underneath the paid advertisements. By ranking in 1st position and also having a featured snippet, websites were once able to dominate the SERPs and receive a 30% click-through rate.
A study by SEOClarity has revealed that 95% of the queries that were listed in the featured snippet also ranked organically in the top 3 positions. Meaning that hundreds, if not thousands of websites would have felt the blow of this January update. Let's flash forward to 2023 and look at featured snippets in the world of SEO today!
Why are featured snippets important?
More clicks
Having a featured snippet could mean excellent exposure for your website, and in some cases, this could result in more clicks. Featured snippets increase the amount of area that you appear on the SERPs, making your result the most visible and appealing for users to select. And, if they read your snippet and it proves helpful, they might even just click on your site to continue reading — win-win!
Boost authority
If you're number one in almost anything, it usually means you're the best right? You automatically gain more authority as people look up to the top spot and recongise it as the best. Well the same applies here! Being featured in featured snippets boosts your authority as a website from searchers as they see that Google have clearly placed your site there for a reason, so it must provide the most value to them.
Improved organic traffic
Being top spot is inevitably going to improve your organic traffic. Aiming for featured snippets will increase your page visibility and hopefully send your organic trafforc through the roof!
How to rank for featured snippets
At Candidsky we certainly know how to rank for featured snippets. After all, our strategies and content writing reflect the requirements needed to boost your pages to the top. So, here's what you can do to increase your chances of appearing in a featured snippet.
Produce helpful and original content
In August 2020, Google released their helpful content update which made it even more important to produce fantastic content for your site. If your content is determined unhelpful by Google then your page will be less likely to perform well in search. See why people-focused content is more important than ever in our blog.
By answering the query and matching content with intent, your page or blog is more likely to rank well and maybe even be featured in a snippet.
Keyword research
If you're writing blogs, then strong keyword research is the staring point for success. For example, long-tail keywords that you discover from research can often be questions, and answering these queries effectively could see your page rise ot the top.
Content structure
Don't make it hard for Google, structure content well and optimise effectively so they can find the content that best answers the query. Structure your content with paragraphs and lists so readers can also navigate your page easily.
Propel your rankings with Candidsky
Why are featured snippets important? Well now you know. And one thing we know is how to rank for featured snippets. If you want to see the benefits of SEO and improve your rankings, take a look at our SEO services. We'll create a data-driven SEO Strategy that works for your business and propel your business's rankings! Just take a look at our case studies to see how effective our campaigns have been.
Ready to discuss digital? Contact us today and we'll get back to you in no time!